What is a dental implant?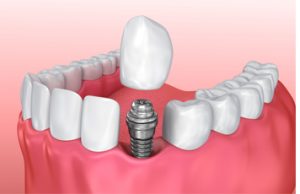 A dental implant is an excellent option for replacing one or more missing teeth. A titanium rod is implanted into the jawbone where the natural tooth root used to be.
A prosthetic tooth is bonded to the rod once the gum has healed and the rod has fused with the bone. The structure looks and feels like a real tooth.
Do I qualify for a dental implant?
If you are physically healthy enough to have a tooth extracted or bridge work done, then you are technically healthy enough to receive a dental implant. Pedro will always conduct a thorough examination before the procedure to make sure this is the case. Your dental health is also critical. The biggest consideration is that your jawbone is healthy enough to support the implant rod.
Pedro will examine the area of your jaw to make sure it is strong, deep and dense enough for successful fusion with the titanium implant. He may recommend a bone graft or sinus lift to improve the condition of your jawbone before the procedure.
Why is a dental implant a good choice to replace missing teeth?
A dental implant is an extremely stable replacement option. Once it fuses with the jawbone, it typically won't require any additional adjustments for the length of time it is expected to stay there.
The new tooth will look and feel so natural and secure that you will be able to smile, speak and eat with confidence. A dental implant is also the only tooth replacement option that stimulates natural growth of bone in the jaw.
Is the dental implant procedure painful?
Dental implants involve a minor surgical procedure that requires an incision in the gum. Pedro generally performs this under local anaesthesia, the least amount of medication necessary for you to feel comfortable throughout. You do have the option of being sedated beforehand if you're feeling anxious.
The area only takes a few days to heal. During this time, you may feel some minor discomfort. Pain medication such as paracetamol or ibuprofen can be taken, but it shouldn't be necessary for any longer than two to five days afterward.
How long does the procedure take?
The length of the procedure depends on how many rods are needed and if your case presents any complexities. It generally takes between one and four hours. If more extensive treatment is required such as a bone graft or a sinus lift, it may take longer. However, Pedro will let you know how long you can expect the procedure to last before you book in for your implant fitting.
What do dental implants cost?
The total cost depends mainly on the number of implants you need. The cost is calculated per rod and per crown. You won't always need a rod for every crown. For example, full-mouth restoration uses only six rods to support a full row of teeth. Pedro will give you a comprehensive quote after your initial consultation.
Does Pedro offer payment options?
Pedro aims to make any treatment as affordable as possible to help his patients restore their smiles whatever their budget. That is why he offers financing options with 0% interest. You can discuss these with him during your initial consultation.
Leave a message on our contact form to schedule an appointment.
Back to treatments